Enjoy a Fun, Meaningful Work Environment
as You Bring Joy to People's Lives Through Landscaping
For us, it's more than a landscaping job: we love enriching people's lives by creating beautiful outdoor spaces they can enjoy with their friends and family. We bring our expert knowledge of area horticulture, design, construction, sustainability, and more together in a proven process that focuses on clear communication, professional service, and customer satisfaction. With sustainable landscaping practices, including the use of responsible drainage systems and the planting of Kentucky native species and pollinator-friendly plants, we create low-maintenance spaces and preserve the land for future generations. If this sounds like something you'd like to be a part of, please keep reading about the landscaping jobs we have available!
We're always on the lookout for dependable, detail-oriented people with landscaping experience and a valid driver's license who enjoy working as a team. We provide top of the line equipment for your ease and efficiency, and are always open to new ideas from our team. For most positions, you need to be able to perform manual labor for up to 10 hours a day, lifting as much as 60 pounds or more on occasion. Take a closer look at the specific job requirements for each open position and apply today!
Apply for These Landscaping Jobs with Inside Out Landscape Design
Interested in one of the landscaping positions we have available? Fill out the form below to start the application process!
If you don't see a role that's right for you, check back later—more landscaping jobs will open up as we continue to grow.
Available Positions:
Landscape Architect/Designer
Hardscape Technician/Mason
Landscape Technician
Here's a quick look at a few of the benefits
you'll enjoy as an Inside Out team member:
No weekend work, EVER.
Competitive wages and benefits
A balanced work-life schedule: Monday-Thursday 7:30-5:30, Friday 8-12 weather dependent 38-45 hours - typically ½ to full day off on Friday
Paid time off including: 5-19 PTO days of your choosing (depends on experience and tenure) & 5 days between Christmas and New Year off PAID
Health insurance 100% paid by IOD at 90 days
100% Life insurance
401K with 4% company match
Dental/ Life Insurance/ Vision Available (employee paid)
Financial counseling
Flexible spending account
Cell phone stipends or company provided cell phone for team leader positions
All work orders and timesheets are in an easy electronic system. NO PAPERWORK.
Safety and skills training and safety equipment
Work outside with your hands, create beautiful projects and make a difference
Safe and well-maintained trucks and equipment that make your job easy.
Check-in meetings and annual evaluations with management to ensure both parties are reaping benefit from working together.
Paid for professional development and continuing education (We pay for the education PLUS bonus you for becoming certified!)
Full-time, year-round positions
Fun, family-like work environment
Personal development (we've done financial, mindfulness and other courses)
Company-sponsored events and end of year family dinner!
And more!
Our Hell Yes Team Members
& Apprentices have the following qualities:
Resonates with our core values:

First-Class Service
Pride in Craftsmanship
Grow and Glow
Enrich Lives
Eco-Centric
Check out more on our core values here

Passion for plants + construction
Maintains positive environment
Quick learner, willing to learn
Is accountable & reliable
Follow basic directions + directives
Follows all company policies
Ability to work unsupervised
Can do physical work all day
Enjoys working outdoors/all weather conditions
No physical limitations
Can lift 20-60lbs
Comfortable driving company vehicles with trailers
Ability to operate heavy machinery
Knows proper install + maintain techniques
Our Hell Yes Leaders have/can/know
All of the team member and apprentice list, plus:
Excellent management + leadership skills
Strong organizational skills
Strong communication, written + verbal
Thorough construction + landscape knowledge
Accept direction and improvement areas
A deep understanding of IOD processes
Read plans
Knows company systems
Understand mechanics
Interact with English-speaking clients
Solve problems
Operate all machinery in all conditions
Complete job with little oversight from others
Onsite problem solving
Handle any issues and great at problem solving
Computer literate
What It's Like to Be
a Member of the Inside Out Team
When Andrea and Michael Mueller founded Inside Out Landscape Design in 2007 to serve Frankfort and the surrounding area, they brought a lifetime of horticulture experience with them. They wanted to raise the standard for landscaping in Central Kentucky, and they focused on delivering high-quality designs and installations with the underlying purpose of enriching people's lives with those outdoor spaces, creating places where people can gather to spend time with family and friends in nature. They bring that level of connection, personalized customer care, and love of the outdoors into our work family, as well.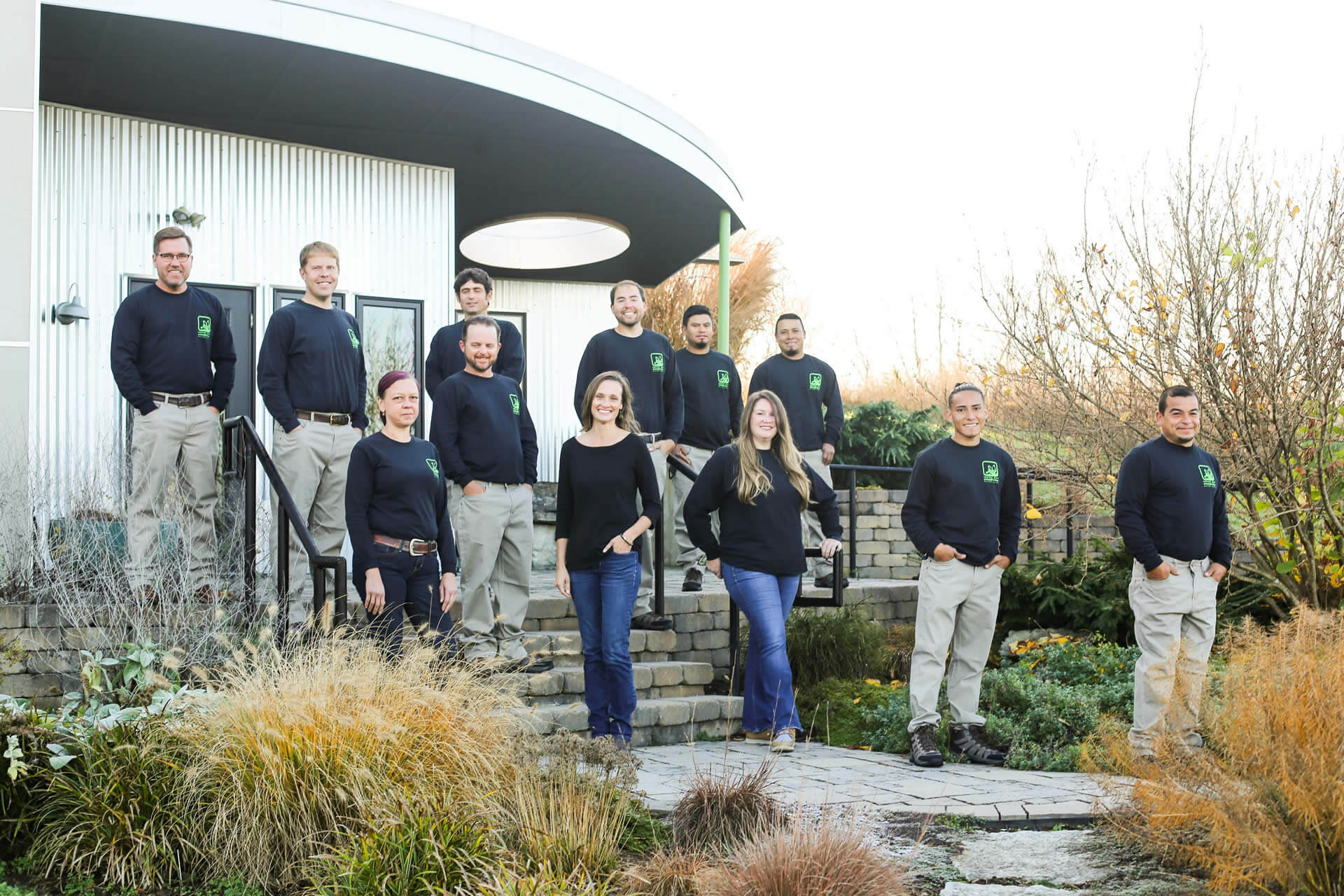 As a member of our team, you matter to us. Your health and safety are important, and we strive to create a family-like work environment where everyone is supported and appreciated. We believe in work-life balance, which is why we don't work nights or weekends (we often have half day or full day Fridays off, too)—we want our clients and our employees to have time to spend outside with their family and friends! We work hard and strive for excellence, but we have fun, too, and you'll enjoy company-sponsored gatherings and outings.
We believe in lifelong learning, and you'll have opportunities to earn certifications and learn new skills as you explore your unique landscaping interests. Every member of our team is highly valued for their unique experience and insight. Share your ideas as you develop in your role, and tell us about your goals, so we can support and encourage them.
You'll have everything you need to succeed at Inside Out Landscape Design, from job training, consistent communication, and a proven process along with a uniform, boots, coats, and all the equipment you need to do your job safely and efficiently. We want you to enjoy your work, so don't hesitate to let us know what gear or tools you need.
Get to Know the Company Owners:
Andrea and Michael Mueller started Inside Out Landscape Design in their home before growing the company enough to move to a dedicated office space in 2011. Those humble beginnings came with a big vision: to offer ecologically responsible landscaping solutions and give their neighbors the opportunity to spend more time outdoors in beautiful spaces made especially for them. That's exactly what they're doing throughout Central Kentucky today.
Andrea grew up in the horticulture industry, working alongside her father, Charlie, in what was then Kentucky's largest nursery—a nursery he founded. She went on to earn a BA in design at the University of Kentucky; she's also Kentucky's only CPLD Certified Landscape Designer, and she's certified in Sustainable Site Pavement Systems.
After studying horticulture at the University of Maryland, Michael spent nearly two decades managing landscape crews in Kentucky and became Vice President at Charlie's nursery. With his extensive knowledge and experience in landscape and hardscape installation, maintenance, tree spading, and drainage solutions, he oversees our large projects and subcontracted work while preparing bids and estimates.
Together, their wealth of knowledge and commitment to ongoing education and professional certification has attracted a team of hard-working horticulture and construction experts who build incredible outdoor spaces for Central Kentucky residents. If you'd like to join us, apply today!
Start Your Career with
Inside Out
Your passion for horticulture is welcome here! If you're ready to start a long-term career that gets you involved in the community with a company that encourages your personal and professional development, we hope you apply today. Take a closer look at the landscaping jobs we have available—we look forward to meeting you!