An Eco-friendly approach to
Life-Enriching Outdoor Spaces
At Inside Out Landscape Design, we believe it's more than your backyard: it's the setting for long conversations, peaceful moments alone, and shared meals and laughter with your loved ones. It's a place that should reflect your lifestyle and interests, an extension of the most comfortable room in your house. It should be as unique as you are.
We work closely with you to design, install, and maintain the life-enriching outdoor spaces you'll enjoy for years to come, not only because they're beautiful but because they're easy to care for. Our sustainable approach to landscaping includes the use of native plants, practical hardscapes, and drainage solutions so your yard or business entrance can thrive with minimal intervention. These spaces require less water and less pesticide—and less of your time and resources. It's better for the environment and better for you.
When you work with us, you're working with the only CPLD Certified Landscape Designer in Kentucky and a professionally certified installation team that's dedicated to clear communication, on-time delivery, and creative landscaping that is as environmentally-friendly as it is attractive. We've been serving Frankfort, Kentucky, and the surrounding area since 2007, and we've lived here and worked in area horticulture for more than 30 years. We'd love to work with you, too. Contact us and tell us about your next landscaping project.
Beautiful Spaces, Happy Clients
With over 120 combined years of experience in Frankfort and the surrounding area, we've built lasting relationships with our clients. Nothing makes us happier than knowing they're enjoying their outdoor spaces. Here's what a few of the hundreds of clients we have worked with have to say about working with Inside Out Landscape Design:
Always love working with your company. Very pleased with the services you provide. There is no way we could keep up the landscaping without you.
Wonderful experience, as always.  The office staff always keeps us informed as to what's going on with crew schedules and weather.  The site crew members are always courteous and thoroughly clean up the site before leaving each day.
We expect excellence and great customer service from Inside Out and you consistently deliver. This is our second project with you and we couldn't be happier with both the design and the execution.
They completed a limestone walkway with repurposed limestone from a pool demo.  Their work was impeccable and their team was very easy to work with. Great Job!! Their creativity and professionalism is second to none!!
It was an excellent experience. The workers were very friendly and no matter how many questions I had they always took the time to answer them. Cleaned up and seeded yard. Everyone who has seen the patio thinks it is lovely. Workmanship great. If I need something else done will use them. Thanks Inside Out Landscaping.
From the day I looked through the photos online of their work I knew this was the right team to accomplish our dream of creating a sanctuary on our property all while being mindful of mother nature. The vision & attention to detail often overlooked by mainstream companies is over & above our expectations. Every single individual has delivered excellent customer service & you can tell this company cultivates a happy team of people. They love what they do & it shows in everything they do.
Inside Outside Design is a fantastic organization! Great customer support from beginning to end of the process. The team are really informed and go the extra mile at every stage. I would recommend them unreservedly.
I always have a top notch experience with the IOLD team that is sent to my home. I NEVER have had a issue that they have not solved quickly and professionally. You will not be sorry for using this group.
Top quality work and top quality people. A beautiful finished product and a pleasure to deal with.
I have experience with multiple landscaping companies in the area. Inside Out sets the bar. Andrea is excellent at what she does and is very professional. The office staff is quickly responsive and helpful. Ryan was quickly responsive and helpful on-site with the installation. The gentlemen on site for installation were professional and did a great job. I am very pleased with Inside Out Design. I would suggest that if a unique and exceptional product is your goal then it will probably be worth it to you to increase your budget some and go with IOD. I wish we could have afforded all of our design - to be sure, IOD is pricier than other landscapers - but for many people we must pick our spots for where to splurge on the budget and I'm glad we did so for our project. IOD is, without question, the best company for landscaping needs and wants. I highly recommend them to everyone. Professional communication, installation, and follow-up.
No Two Landscaping Projects Are Alike
We treat our clients—and each outdoor space—like the individuals you are. The result is a unique landscaping design that enhances your existing architecture and takes your lifestyle into consideration. Take a look at some of our landscape transformations, each completed with different challenges and under different budgets:
Your All-In-One Landscaping Company
In Frankfort
Whether you're installing a new outdoor living area, adding curb appeal to your home, or want to add an artistic statement to your property, we're on the job. Our full range of eco-ethical landscaping services are backed by well-educated professionals, detailed contracts, and responsive customer service. We're here to help you love your outdoor space, whatever that requires for you:
You're 8 Steps Away
From Your New Outdoor Space
Working with us is simple. We follow a transparent process so you know exactly what to expect each step of the way, and we stay in communication with you as we go. Don't hesitate to reach out with your questions at any time:
Complete the inside out questionnaire
In less than 10 minutes, you can answer a few questions (and even upload a few photos, plats, house plans, survey, etc.!) to help us get to know your landscaping challenges, aspirations, and preferences.
SCHEDULE AN IN-PERSON INSIDE OUT CONSULTATION
It's time for a walk-through of your outdoor space, so we can see it and get more information about what you'd like! Our in-person consultations range from $150-300+ (depending on your location).
Sign the Design Agreement and Put Down Your Deposit
Within 24 hours of your consultation, we will send you the agreement. These are priced at a flat rate based on your existing site and the complexity of the design, with simple designs starting around $1,500, full site plans for large properties ranging $5-10,000+. Extensive outdoor space projects (our specialty and majority of our projects) are a $5,000 minimum design fee. The Design Phase will begin as soon as we receive your signed agreement and deposit, both of which can be done online.
If your project doesn't need a design, you'll get an estimate within one week of your consultation.
Enter the Design Phase
Design support staff will measure and evaluate the site and will reach out to you to arrange the best time to do this. They pass that information on to our designers, who get to work on your design. For especially large projects, the designer may be in touch throughout the process to see what you think of the concepts. You'll receive the final concept for review before we estimate the cost of the project.
Attend the Inside Out Presentation Meeting
It's so exciting to see your ideas come to life! You'll have the information you need to envision the completed project, including all the details, plant photos, and more. The Construction Agreement will be created once the design is approved, is customized for your property, and we aim to be as detailed as possible, which allows us to offer an accurate estimate.
Sign the Construction Agreement and Make the Initial Payment
After we've finalized the scope of the work, you can electronically sign an agreement to the terms of payment. For small projects, this is typically 40% initial payment and 60% upon completion. Larger projects are 30% upon signing, 30% when we begin the work, 20% when the hardscaping is complete, and the final 20% percent when the entire project is done.
You'll hear from us to schedule an approximate start date, and we'll send you a detailed production email with the next steps in the installation process along with care and maintenance sheets for your reference.
We'll Get Started!
We'll touch base with you the week before your start date, and the crew will call you when they're on the way to the site on the first day of work. We'll coordinate everything—you can simply sit back, relax, and eagerly await the completion of your revamped outdoor space!
Final Walk-Through
Your satisfaction is our priority, so a foreman or manager will walk through the project with you (if you're available) before we leave the site. If there are any issues, please give us an opportunity to fix them. We would love you to leave us an online review with your feedback!
Proud to Be a Landscaping Company
Serving Frankfort & Beyond
Frankfort is our home, but we're proud to serve the Central Kentucky region. You'll find our sustainable landscapes throughout these nearby areas:
Lawrenceburg
Prospect
Shelbyville
Goshen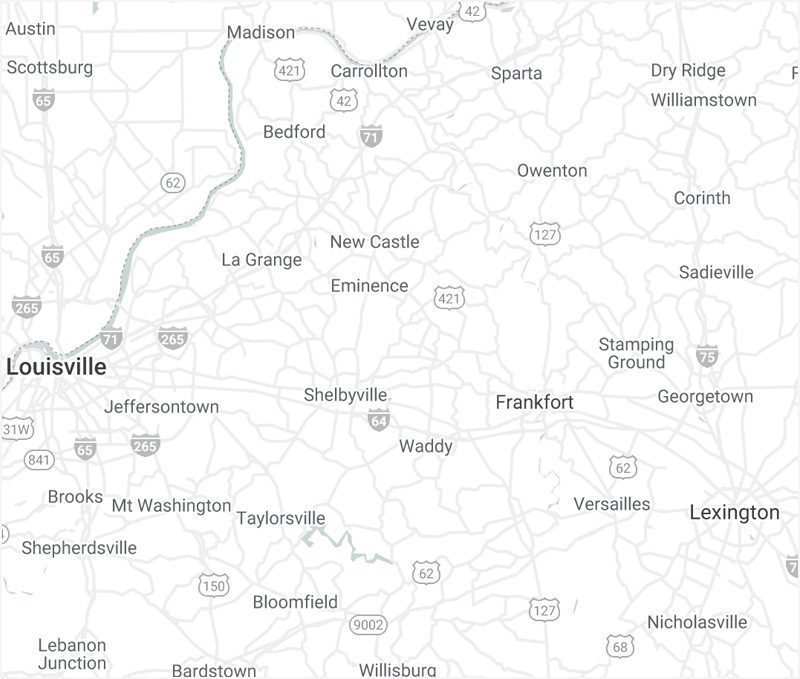 Lexington

Louisville

Goshen

Prospect

Versailles

Lawrenceburg

Shelbyville

Midway

Georgetown
Frankfort
Your Career in Eco-Ethical Landscaping
Starts Here
If you're passionate about horticulture, sustainable practices, and helping people enjoy life outdoors, we'd love to hear from you. We offer year-round employment, 100% health insurance, 401K with 4% match, bonuses, company outings, reasonable hours that promote work-life balance, a family-like and community-driven atmosphere, and more. Visit our careers page to see our current openings and apply today.